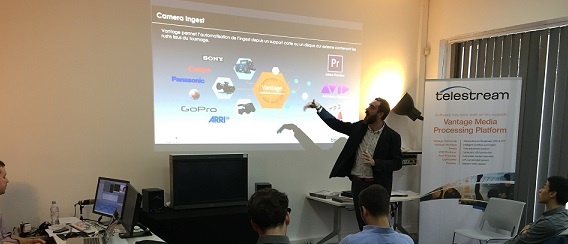 Published on 09/11/2015
VIDELIO - Cap'Ciné joins Telestream to warmly thank all who attended the TeleStream Vantage Masterclass which took place november 4th and 5th in Paris.
During the sessions, our VIDELIO - Cap' Ciné experts in the Vantage workflow environment were able to share their experience and bring attention to most of the solutions Vantage can offer to its users : combine the power to capture media, transcode and manage complex workflows…
All the attendees had the good fortune to be offered a free license for Telestream Switch V2.0, a complete software package to check transformed files !
As the official distributor for TeleStream Enterprise solutions since last year,
VIDELIO - Cap' Ciné has installed LightSpeed K20 and K80 servers at many production and post-production sites. In this age of departure from any physical form of media, the VANTAGE solution offers a rich assortment of tools for the management, transcoding and transport of all types of files.
If you were unable to attend the TeleStream Masterclass at VIDELIO - Cap' Ciné in Paris, you can make an appointment for a demonstration by clicking here
VIDELIO - Cap' Ciné is a certified TeleStream Enterprise Premier Reseller for France.