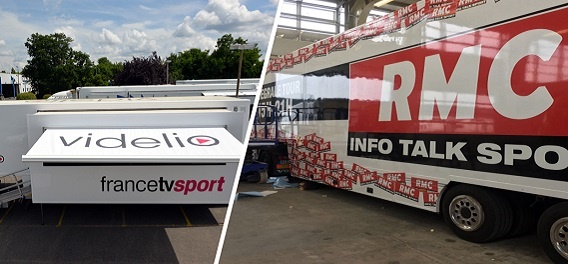 Published on 10/07/2017
3 weeks each year, for over 15 years, the VIDELIO teams live at the rythm of the various daily steps of the Tour de France working with the major actors of the event. Radio and television networks, news agencies, advertisers and organisers can rely upon the technical expertise and very fast reactivity of the teams covering the cycling race.
France Télévisions, goes mobile :
A mobile television shooting set constructed for France TV Sport is fully equiped with turret cameras, remote-controlled cameras and a high brightness 85" screen used for the programme Vélo Club.
Postproduction is achieved with a portable unit especially designed to produce short summaries, best-offs or highlights of the day for television networks. A broadcast van is subdivided into 5 AVID editing suites, an air-conditioned technical area and a control room, offering the same comfort as a fixed postproduction studio thanks to the operational configuration designed by the VIDELIO teams. Our daughter companies VIDELIO – Cap'ciné, VIDELIO – Media and VIDELIO – Events.all contributed to the project.
Sports news staff are located in another van fitted with a 98" main screen and several 46" screens.
RMC (Radio Monte-Carlo) also takes to the roads. For the first time this year, RMC will cover the entire VIDELIO – Events with a mobile set supplied and entirely fitted by VIDELIO-Events : microphones, sound mixing desk,…
ASO (Amaury Sports Organization) displays the best shots of the race using over 100 LED and LCD screens installed by VIDELIO – Events at each departing and arrival city of the day. At each location, screens are placed at the starting line, the finish line, VIP and Press zone and mid-event relay town. On the lorry placed at the finish line, video is proeminently displayed via two LED walls on either side of the podium. The VIDELIO-Events teams also fitted the ASO editing van with 7 systems directly connected to the France télévisions broadcast vehicle.
The advertising caravan sponsors also make heavy use of video. To make sure their message got across, several agencies and advertisers called uponVIDELIO – Events's expertise. Hotel chain IBIS fitted their cars with LED screens installed in a convex configuration. Advertising agency PANENKA also used LED walls on its vehicles for customersEnedis ERDF and Direct Energie.
In total, around twenty of our technical experts were present all along the race to assist the actors of the event.