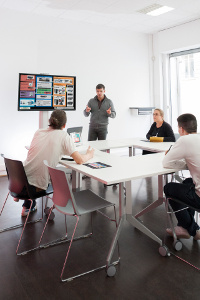 Because we know that systems are useless if not used to the fullest, we have created a complementary service company to assist all the audiovisual specialists in perfecting their competences and master the new professional tools.
With a unique technical facility right in the heart of Paris, Time Code Services offers a 140 square meter area, entirely dedicated to technical training. We have
on-location the best experts in digital workflow technologies (Video, Audio and Media Asset Management).
We are partners of the largest content publishers and equipment suppliers (Avid, Sony, Tektronix, …) and a government certified training centre recognized by the AFDAS. From customized company trainings to programmes created in partnership with official training programmes, VIDELIO - Cap'Ciné can be your partner in any project of Human Resources training programme.